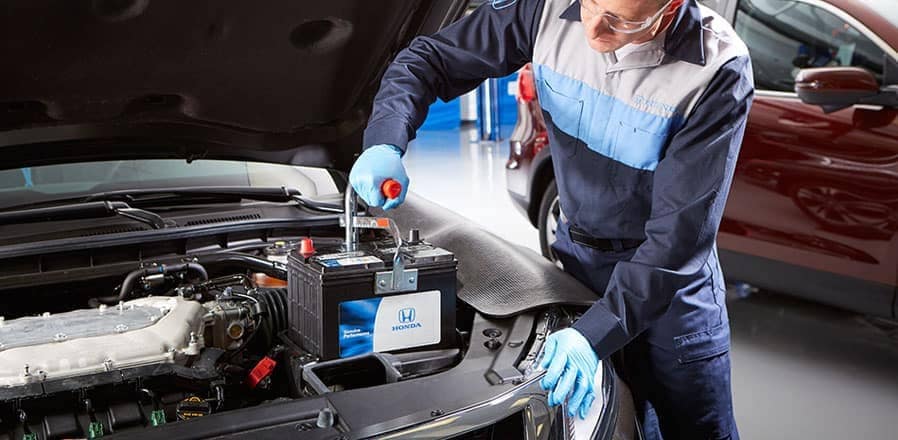 Battery Replacement Near Throgs Neck
Are you searching for a reputable service center where the staff will provide remarkable service and effortless battery replacement near Throgs Neck? If so, the ideal organization to visit is the Bronx Honda Service Center! At Bronx Honda's certified service center, our certified mechanics will accommodate you, ensuring all your requirements are met. A car battery that is losing its life can potentially destroy your engine and vehicle's electrical components. To ensure that your Honda is efficient while driving, it is important to preserve your battery's health. Nevertheless, if your battery is anything less than perfect, we suggest visiting the service center here at Bronx Honda. Throgs Neck shoppers can be much more comfortable understanding that their Honda is in the hands of skilled technicians. In addition, your vehicle's electrical features rely on the battery as their main source of power. By getting the work done sooner than later, you can avoid pressing matters that may arise, so visit Bronx Honda in New York today!
Indications Of A Bad Car Battery
Have you noticed that your Honda has been acting out of the norm when driving? Peculiar instances may indicate that the battery is running on a nominal charge and will soon lose its power. If this is the case, you'll notice some key indicators. The factors listed below could help you recognize when you need to change your battery. To be on the cautious side, you should visit the Bronx Honda service center for a battery replacement near Throgs Neck as soon as your schedule opens up.
Check Engine light is on

The engine is slow to start

Interior or headlights begin to dim.

Frequent jump-starts

Clicking noise when you turn the key

The battery is "old."

The battery connectors are corroded.

Dash lights work, but the car won't start.
At the Bronx Honda Service Center near Throgs Neck, our mechanics are ready to assist customers with all their battery replacement needs. While doing so, we guarantee to provide you with a welcoming experience and excellent customer service throughout your journey! Therefore, if you are located in Throgs Neck, New York, and currently encountering any of the issues listed above, it would be best for you to visit Bronx Honda Service Center as soon as possible.
Visit Bronx Honda For Your Battery Replacement Near Throgs Neck 
When viewing a Honda's mechanical components, the battery is one of the most important aspects to ensure your vehicle operates properly. Excluding the engine and fuel, the battery is the mechanism that will provide your vehicle with power. That is why your battery must be functioning at peak performance. But, of course, each Honda's battery life expectancy differs. In addition, some of the various external factors such as driving patterns, battery age, and more can impact this, so being caught off guard when driving is something you don't want to experience. If you have any questions or concerns, get in contact with one of the trustworthy mechanics at Bronx Honda's service center near Throgs Neck as soon as possible. We will set up an appointment so we can resolve any issues your vehicle may be experiencing while ensuring you receive nothing but the best!