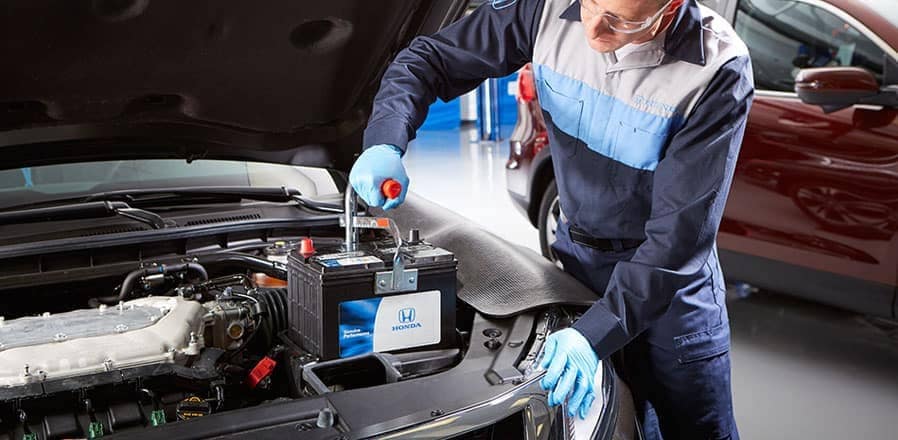 Battery Replacement Near Soundview
Are you searching for a reliable service center to provide you with battery replacement near Soundview? If so, your number one option is to visit the Bronx Honda Service Center! Here at Bronx Honda's certified service center, our highly trained mechanics ensure all your requirements are met. A car battery that is losing its charge can potentially ruin your engine and vehicle's electrical components. It is essential to possess a healthy battery to ensure your Honda is efficient when driving. However, if your battery is anything less than perfect, we recommend visiting our service center. Soundview customers will have a much better mindset knowing that their car is in the hands of our certified technicians at Bronx Honda. The electrical components within your vehicle rely on the battery, as it is the system's heart. So eventually, it is crucial to make sure your battery still holds a significant charge. Your car will repay you with reliability if you're attentive with its routine maintenance. So, before critical issues arise - visit Bronx Honda in New York.
Indications Of A Bad Car Battery
If your Honda's battery is beginning to lose its charge, you'll see key indicators. If you notice any of the key indications throughout your daily routine, you must visit the Bronx Honda service center for battery replacement near Soundview as soon as possible. Listed below are a few symptoms that might indicate that your Honda's battery requires attention.
Check Engine light is on

The engine is slow to start

Interior or headlights begin to dim.

Frequent jump-starts

Clicking noise when you turn the key

The battery is "old."

The battery connectors are corroded.

Dash lights work, but the car won't start.
Here at the Bronx Honda Service Center, our team is fully committed to providing each Soundview resident with a welcoming experience and providing you with excellent customer service! Therefore, if you are located in Soundview, New York, and currently encountering any of the symptoms listed above, it would be best for you to visit the Bronx Honda Service Center as soon as possible.
Visit Bronx Honda For Your Battery Replacement Near Soundview 
The battery is one of the main components that keep your Honda running on a day-to-day basis. Besides the engine and fuel, the battery is what powers the vehicle and everything within it. That is why your battery must be operating at peak performance. Of course, each Honda's battery life expectancy differs. It depends on various external factors like driving patterns, the age of the battery, and more, so being caught off guard is the very last thing you want. If you have any questions about the lifespan of your Honda's battery or any other specific questions, call or go online to schedule an appointment with us - our certified specialists are here to ensure you receive the best battery replacement near Soundview!