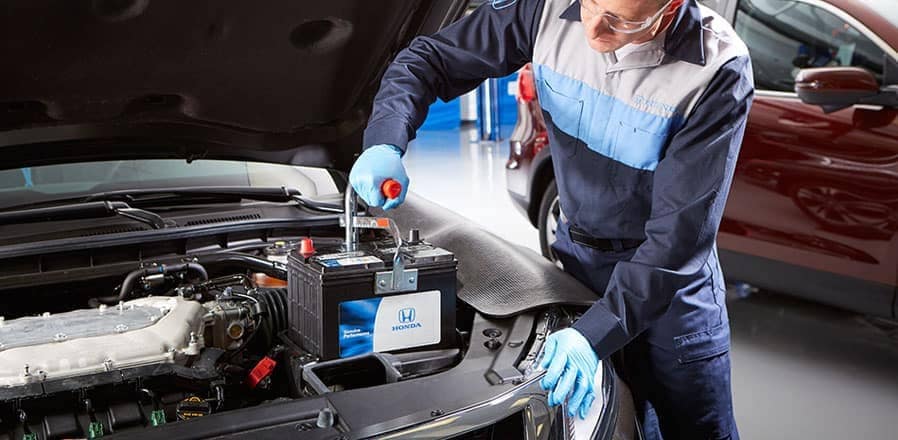 Battery Replacement Near Castle Hill
Searching for a reputable service center near Castle Hill to provide high-quality battery replacement is hard to come by. Therefore, Bronx Honda is ready to help and should be your next stop! Bronx Honda's accredited service center will meet all your mechanical requirements! A car battery is a vital component within your Honda and can destroy your engine and vehicle's electrical components if left untreated. Because of this, your battery must be nothing other than perfect, so we highly recommend visiting the Bronx Honda service center to ensure your Honda is in peak condition and in the good hands of qualified technicians. Since your Honda's battery is the primary source for electrical features throughout the vehicle, it is essential to have it looked at, saving you money and getting you back on the road faster. So be sure to contact us to schedule an appointment or visit Bronx Honda in New York today!
Indications Of A Bad Car Battery
If you notice that your Honda has been acting strangely or driving erratically, it may be time to visit the experts at Bronx Honda. Small and inconvenient situations like this may indicate that your battery is running low and will soon lose power. Being cautious about your battery and bringing it to our service center near Castle Hill will help you get back on the road in no time while saving money! Listed below are some key signs that can help detect when to stop by for service.
Check Engine light is on

The engine is slow to start

Interior or headlights begin to dim.

Frequent jump-starts

Clicking noise when you turn the key

The battery is "old."

The battery connectors are corroded.

Dash lights work, but the car won't start.
Bronx Honda service center technicians are on standby to help assist with your car and ensure your battery is working to the best of its ability. In addition, the calm atmosphere of the Honda service center and exceptional customer service will ensure the process is seamless from start to finish. Therefore, if you're a Castle Hill resident and need a battery replacement or service, Bronx Honda should be your next stop!
Visit Bronx Honda For Your Battery Replacement Near Castle Hill 
When looking at a Honda's mechanical components, it is clear that the battery is one of the most critical elements that ensure your vehicle is running correctly. In line with the engine, the battery is the sole power source that starts your car and ensures it runs at peak performance. However, this should not deter you from the fact that every battery has a different life expectancy, and some external factors can deplete it. This includes driving patterns, battery age, and more. So be sure to get your battery checked out to avoid unexpected situations. If you have any questions or concerns, be sure to contact one of our trustworthy mechanics at the Bronx Honda service center near Castle Hill. We can easily set up an appointment and resolve any issues your Honda may be experiencing!